Fun Diving bali
Bali, Indonesia is home to the newly created Nusa Penida Marine Park and we are right in the heart of it. We have some of the most exciting and rewarding Fun Diving in Indonesia, which is why so many of our customers return year after year.
The fringing reefs are in fantastic condition and are home to an incredible variety of marine life, both big and small. They offers some of the best fun diving in the world and recently the area was classified as The Nusa Penida Marine Area. Great news for us and great news for the fish!
Fun diving here offers everything from vast sloping reefs to steep drop-offs and sheltered bays. You can enjoy exhilarating rides on ocean currents or lazy explorations of the reefs. Our big fish include famous Oceanic Sunfish and Manta Rays! For macro lovers we also have lots of funky critters. The fun diving is as varied and rich as the culture of the islands and the people themselves.
Daily Dive Trips
Big Fish Diving head out every morning for two dives before returning at midday. During the surface interval we provide a tasty Nasi Campur lunch and also have tea, coffee and plenty of drinking water on board.
During the busy high season from June till late November we also make another 1 or 2 tank dive trip in the afternoon. This trip is dependant on tides and weather conditions.
We keep our group sizes small to ensure you get the most from your dive and are certain you'll love our guides. They not only have plenty of experience, but warm personalities and big smiles to boot!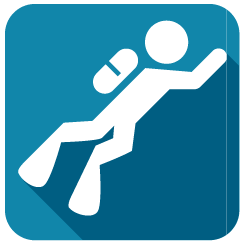 GOOD TO KNOW BEFORE YOU GO
Average diving visibility around Penida is 20 – 30m.
Water Temperature: January to July 25-29°C is average and then the temperature begins to drop for the mola season, where 20-26°C is more common. By December the water warms up again.
There are ATM's on Nusa Lembongan BUT and this is a big BUT they are frequently targeted by scammers so it's advisable to bring cash with you or change foreign money in Bali for a better rate.
For more information inc prices click the Whatsapp button below or drop us an email – we love chatting about diving and all things Lembongan