PADI Scuba Diving Courses
on Nusa Lembongan, Bali
WE ARE PADI FIVE STAR DIVE RESORT AND WE OFFER A WIDE RANGE OF PADI SCUBA DIVING COURSES TO SUIT ALL ABILITIES AND WE CAN TEACH IN A VARIETY OF LANGUAGES. ALL OUR RECREATIONAL COURSE PRICES INCLUDE EQUIPMENT RENTAL, INSTRUCTION, LOCAL TAXES AND THE USE OF DIVE MANUALS & CERTIFICATION FEE
Under the guidance of your professional PADI Diving Instructor, you gain confidence while mastering important safety concepts and skills. You will progress at your own pace as you demonstrate mastery of specific performance requirements essential to becoming a scuba diver. The fun and enjoyment of being a confident scuba diver is fuelled by continuing to improve your scuba skills.
Each dive course builds on the previous one, teaching you skills and techniques when you're ready to learn them. Specialty courses let you explore specific dive interests. Professional-level courses let you live the scuba diving lifestyle by becoming a PADI Divemaster.
Be a safe diver and check if you are fit to scuba dive. Read this medical form and if you would honestly answer NO to all of the questions, then you are ready to join any of our courses. Otherwise, please consult your doctor prior to arrival to Big Fish Diving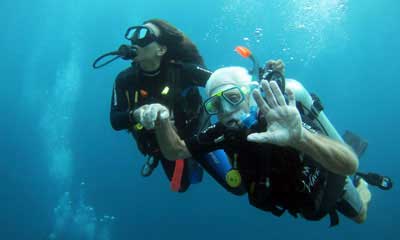 Introductory Dive
This half day programme is ideal for those who have limited time, or who are not sure whether diving is for them. After a short safety briefing you will learn a couple of skills in our swimming pool to build your confidence.
Read more
The ultimate part of this programme takes place on your ocean dives surrounded by beautiful corals and tropical fish. A perfect experience to remember in years to come – or if you want to continue and dive some more, count it towards your Open Water Diver course and get certified!!
Option 1: Theory, Pool and 1 Ocean Dive
Price: IDR 900,000
Option 2: Theory, Pool and 2 Ocean Dive
Price: IDR 1,500,000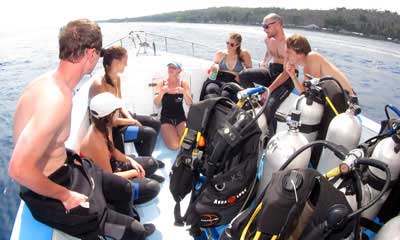 PADI Open Water Diver
New to diving? Then the world's most popular scuba diving course is ideal for you. PADI Open Water Diver course takes 4 days and allows you to dive to a maximum of 18m with a qualified buddy all around the world.
Read more
The course is made up of 3 sections:- 1. Theory, 2. Swimming pool skills and 3. 4 Ocean dives. an introduction to scuba diving equipment, learning how to use that equipment in our swimming pool and finally 4 action packed open water dives in the Nusa Penida Marine Protected area. At every step of the way we are here to help and guide you and make sure you feel comfortable and confident with the equipment and diving in the ocean. After you have completed your final exam the world is your oyster, so sign up today and experience the adventure of a life time!
Duration: 4 days
Theory: Self study, DVD's, quiz's and final exam
Dives: 2 swimming pool dives and 4 ocean dives
Included: Log book, certification, equipment rental, food & drinks on the boat and tax…. everything really!
Price: IDR 5,000,000
Book your PADI Open Water Course now

Big Fish Diving offers an option of starting your PADI Open Water Course today! If you are short on time you can complete all the theory online. You will pay PADI directly (AUD$196) for the eLearning and complete knowledge reviews, watch videos and complete the quizzes and final exam. Then when you arrive here you will start with pool skills and then finish with 4 ocean dives. We reduce the price of the PADI Open Water Course by IDR 1,900,000.
Simply follow the link below, then finish your theory portion of the course at home, and at your own pace. In that way you will keep your holidays for the fun part of the course – underwater!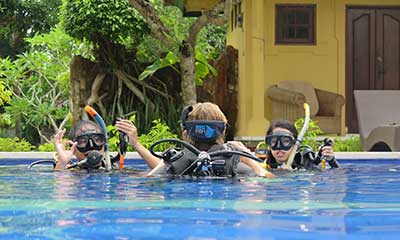 Scuba Review: 2-3hrs
A scuba review is designed for certified divers who want to refresh their dive skills and theory before heading out into open water again. You will be reminded how to set up your dive gear, check your weighting
Read more
and practice a few skills in our swimming pool. This will leave you reassured and ready to join the dive boat the following day.
Advanced Open Water
Is 18m not enough for you? During the PADI Advanced Open Water course you will complete 2 core dives: deep and navigation, plus an additional 3 dives that you can choose from the list below.
Read more
By the end of the course you will be certified to dive to 30m and should be comfortable diving in a range of environments. The great thing about the advanced course is that there are no exams or skill sessions – just discuss the theory with your instructor and then enjoy putting it all into practice on your dives!
Number of Days: 2/3
Number of Dives: 5 (2 core and 3 optional)
Core Dives: Deep and Navigation
Optional Dives: Drift, Multi Level and Computer, Photography, Buoyancy, Night, Fish ID and Naturalist
Included: Certification, equipment rental, food & drinks on the boat and tax
Price: IDR 4,000,000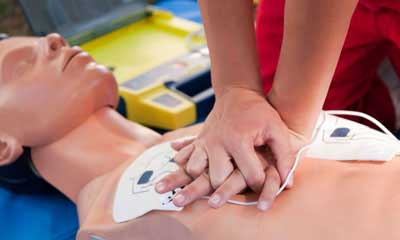 EFR COURSE
This comprehensive 1 day Emergency First Response Course is a pre-requisite for the PADI Rescue Diver course, although it can be completed earlier in your training and is also available to non-divers.
Read more
It provides a thorough insight into Emergency Primary and Secondary Care. This is a thoroughly worthwhile course and will have you learning and practicing essential skills, then putting it all into action with a few staged scenarios.
Number of Days: 1
Included: Certification and tax
Combine EFR and Rescue Diver Course and get 10% off
Price: IDR 1,800,000
Rescue Course
Many people feel the PADI Rescue Diver course is the most fun they have ever had in a learning environment. After the Open Water and Advanced courses which are very much focused upon your
Read more
own diving skills, you are now required to think about others while underwater. Skills include assisting a panicked diver, dealing with an unconscious diver, missing diver searches and providing emergency oxygen. We try to intersperse theory sessions and skills training with realistic yet fun scenario practice, which will leave you confident that you are capable to deal with a range of dive related emergencies and problems.
Number of Days: 4
Number of Dives: Multiple confined water and 2 ocean dives
Included: Certification, equipment rental, food & drinks on the boat and tax
Combine EFR and Rescue Diver Course and get 10% off
Price: IDR 5,000,000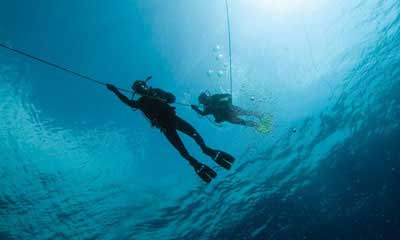 Deep
The lure of the deep. There's something exciting and mysterious about exploring deeper dive sites while scuba diving. Mola mola are deep ocean creatures frequently encountered on our reefs
Read more
from July to October. Whatever it is, to scuba dive with confidence at depths down to 40 metres, you should take the PADI Deep Diver Specialty course.
Number of Days: 2
Number of Dives: 4
Included: Certification, equipment rental, food & drinks on the boat and tax
Price: IDR 3,400,000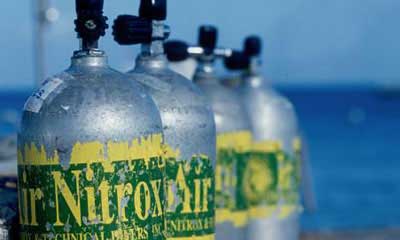 Nitrox
PADI Nitrox course is our most popular specialty course. Why? Because scuba diving with nitrox gives you more no decompression time, especially on repetitive scuba dives.
Read more
If staying down longer and getting back in the water sooner sounds appealing, then don't hesitate to become an enriched air diver.
Number of Days: 1
Number of Dives: 2
Included: Certification, equipment rental, food & drinks on the boat and tax
Price: IDR 2,600,000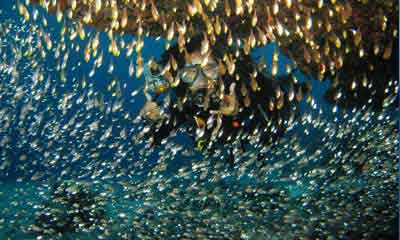 Deep and Nitrox
PADI Deep and Nitrox specialty courses are most popular which is why we offer a special deal for combining them. You would need 4 dives to become certified Deep and Enriched Air Nitrox Specialty
Read more
Divers!
Number of Days: 2
Number of Dives: 4
Included: Certification, equipment rental, food & drinks on the boat and tax
Price: IDR 4,800,000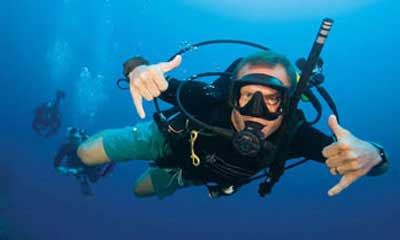 PADI Divemaster: 4-6 weeks
WANT TO BECOME A DIVE PROFESSIONAL? PADI DIVEMASTER COURSE IS THE FIRST STEP ON THE PROFESSIONAL LADDER AND IS CONDUCTED OVER A 4-6 WEEK PERIOD. CERTIFIED DIVEMASTERS ARE INVALUABLE IN THE DIVING INDUSTRY AS THEY CAN LEAD CERTIFIED DIVERS ON GUIDED DIVES, ASSIST INSTRUCTORS ON COURSES, AS WELL AS CONDUCT SCUBA REVIEWS AND SNORKELLING PROGRAMMES. GOPRO WITH BIG FISH DIVING IS SERIOUS FUN!
Read more
We try to give as much help as possible with theoretical learning and put a lot of time into practicing skill demonstrations with you, while giving thorough briefings/debriefs when you are assisting on courses. You will also be given plenty of opportunity to get experience leading dives, with an instructor always on hand at the back of the group to encourage and advise. Doing PADI Divemaster course is an incredible experience, especially on Nusa Lembongan and we work hard to ensure that it is one you will never forget.
3 REASONS TO GO PRO WITH BIG FISH DIVING IN NUSA LEMBONGAN
1. Big Fish Diving is based in the Nusa Penida marine protected area. This is consistently rated as offering the best scuba diving in the Bali and Lombok region, so you will not tire of the marine life and coral reef while diving with us. It is also the only place in the area where you can regularly see manta rays and the incredible Mola Mola (oceanic sunfish) if you time it right. The diving around the three islands can be challenging at times and provides a great learning experience for those hoping to become professional divers. By the end of your PADI Divemaster course, you will really feel competent diving in currents and able to deal with the challenges this involves.
2. You will have a chance to be involved with the Marine Megafauna Foundation team, based at Big Fish Diving. By the time you have finished your PADI Divemaster training you should be experienced in spotting, caring for and ID'ing our local population of manta rays. Marine Megafauna Foundation offers marine talks twice per week and you are welcome to join them.
3. To all our Divemaster Trainees we offer a 10 class yoga card. Yoga Shack Lembongan is situated right on site at Big Fish Diving and Secret Garden Bungalows. As a part of Divemaster package you may use this card at any of our daily yoga classes. This will help your breath control and calm your mind.
As a PADI Divemaster trainee you will be welcomed into the Big Fish Diving family!
Prerequisites
Rescue diver certification
EFR certificate, within the past 24 months
40 logged dives
18+ years of age at the start of the course
Have medical clearance for diving signed by a physician within the last 12 months. Click here to download a medical form, though it is possible to arrange this on the island
Course Content
Knowledge Development – the PADI Divemaster manual covers topics such as risk management, customer perspectives and career opportunities within the dive industry. Knowledge reviews for each chapter will be completed and discussed with your instructor. A large part of the Divemaster theory comes from independent study and review sessions, in preparation for the final exam.
Waterskills and Stamina – 4 swim tests must be completed worth a maximum of 5 points each, with a total of at least 12 points needed before certification. There is a 400m swim, a 15 minute tread/float, an 800m snorkel swim and a 100m tired diver tow. This section also assesses your rescue skills with an unconscious diver scenario. Finally, you will be assessed on your ability to demonstrate the 24 basic dive skills. You will be given ample time to practice these during the course as Big Fish instructors pride themselves on creating Divemasters able to give Instructor-quality demonstrations.
Practical Application – A lot of time is given to this area of the course, where you will find yourself assisting instructors on a variety of dive courses, mapping a dive site, conducting an equipment exchange underwater with another diver and carrying out 2 PADI Divemaster conducted programmes
Divemaster Costs – As well as the Divemaster course fees payable to us there is also an application fee payable to PADI on completion of your course. You will also need to have your own set of PADI Divemaster manuals which you can buy yourself or we can help you buy them once you are here.
As future dive professional we would also expect you to have some basic dive equipment like mask, snorkel, dive computer and SMB all of which we can help you buy locally in Bali.
Accommodation during your course
There are a variety of accommodations to choose from, all within walking distance of the dive centre. Expect to pay around IDR 2,000,000 – 2,500,000 per month for a fan room with private bathroom.