PADI Scuba Diving Courses
on Nusa Lembongan, Bali
Welcome to our Scuba Diving courses page! Whether you're a complete beginner or an experienced diver, our courses are designed to help you explore the incredible underwater world in the Nusa Penida Marine Park
If you're new to scuba diving, our PADI Discover Scuba Diving (DSD) program is the perfect way to dip your toes in the water. In just one day, our experienced instructors will teach you the basics of scuba diving so you can explore the amazing underwater world with confidence.
For those who are ready to take their scuba diving to the next level, we offer a variety of PADI certification courses. From the Open Water Diver course to becoming a PADI Divemaster, our courses are designed to help you develop your skills and knowledge so you can explore the stunning underwater world of the Nusa Penida Marine Park with ease.
Our courses are taught by experienced and certified instructors who are passionate about scuba diving and committed to your safety and enjoyment. We provide all the equipment you need, so all you have to do is show up and be ready for an adventure!
Take the plunge and discover the incredible underwater world in the Nusa Penida Marine Park with our Scuba Diving courses. Contact us to learn more and book your spot today!
Be a safe diver and check if you are fit to scuba dive. Read this medical form and if you would honestly answer NO to all of the questions, then you are ready to join any of our courses. Otherwise, please consult your doctor prior to arrival to Big Fish Diving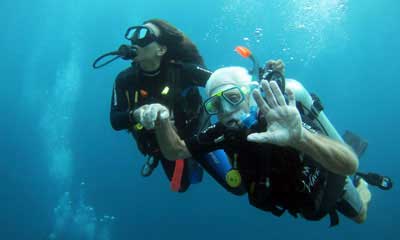 Introductory Dive
Are you curious about scuba diving but not quite ready to commit to a full certification course? Then our PADI Discover Scuba Diving (DSD) program is perfect for you! In just two half days, our experienced instructors will teach you the basics of scuba diving so you can explore the amazing underwater world in the Nusa Penida Marine Park. Read and discover more here.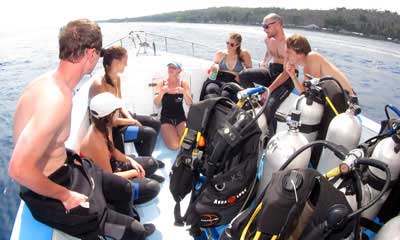 PADI Open Water Diver
Looking for the ultimate scuba diving experience? Our PADI Open Water Diver course is just what you need. Over the course of 3 days, you'll learn the ins and outs of scuba diving from our experienced instructors. And the best part? You'll have the opportunity to dive with some of the most magnificent creatures of the sea – Manta Rays and Oceanic Sunfish. Learn more about this course here.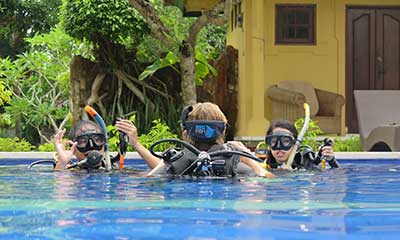 Scuba Review
A scuba review is designed for certified divers who want to refresh their dive skills and theory before heading out into the ocean again. You will be reminded how to set up your dive gear, check your weighting and practice a few skills in our swimming pool. This will leave you reassured and ready to join the dive boat the following morning.
Advanced Open Water
Is 18m not enough for you? During the PADI Advanced Open Water course you will complete 2 core dives: deep and navigation, plus an additional 3 dives that you can choose with your Instructor. Read more here about this course.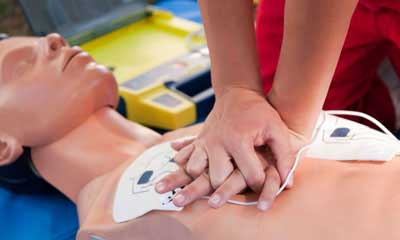 Rescue Course
Many people feel the PADI Rescue Diver course is the most fun they have ever had in a learning environment. Read more here about this course.
Combine EFR and Rescue Diver Course and get 10% off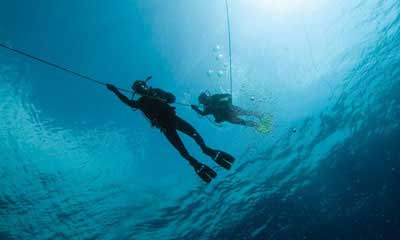 Deep
The lure of the deep. There's something exciting and mysterious about exploring deeper dive sites while scuba diving. Mola mola are deep ocean creatures frequently encountered on our reefs  from July to October. Whatever it is, to scuba dive with confidence at depths down to 40 metres, you should take the PADI Deep Diver Specialty course. 
Number of Days: 2
Number of Dives: 4
Included: Certification, equipment rental, food & drinks on the boat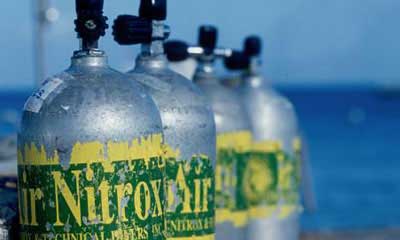 Nitrox Theory
PADI Nitrox course is our most popular specialty course. Why? Because scuba diving with nitrox gives you more no decompression time, especially on repetitive scuba dives. If staying down longer and getting back in the water sooner sounds appealing, then don't hesitate to become an enriched air diver.
Number of Days: 1
Included: Certification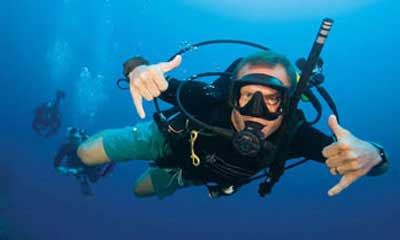 DIVEMASTER
Want to become a dive professional? PADI Divemaster course is the first step on the professional ladder and is conducted over a month or more. Certified Divemasters are invaluable in the dive industry as they can lead certified divers, assist instructors on courses, as well as conduct scuba reviews. Becoming a PADI pro with BIG FISH DIVING is serious fun!