Travel Information
Travel to Nusa Lembongan with boats from Sanur or Lombok
Nusa Lembongan is easily accessible from Bali to the west and the Gili's in Lombok to the east. If you are coming from Sanur then all boats leave from Hang Tuah road at the North end of the beach which is also where you will find the boat ticket offices and ATM. There are a few ATMs on Nusa Lembongan but they are not that reliable so it is worth stocking up before heading over!
If you are arriving on the public boats which don't provide pick up and drop off service please make sure they are coming to Jungutbatu and not Mushroom beach which we can't pick up from. All other boat operators like Rocky offer a drop off service to the hotel.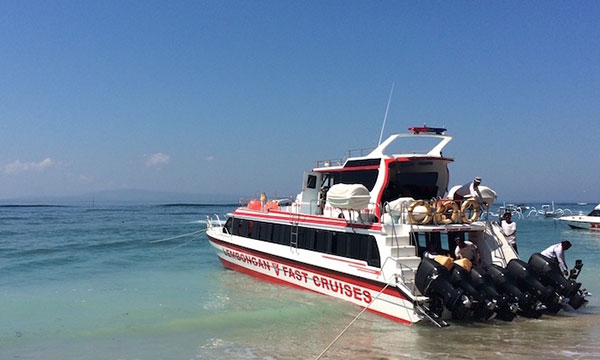 Rocky Fast Cruises
For comfort and style, try one of the Rocky boats. This company offers a complete package and provides transport door to door throughout south Bali. They have 4 departures throughout the day and take care of your luggage for you, which makes life even easier!
| | | | | |
| --- | --- | --- | --- | --- |
| Depart Sanur | 10:00 | 12.00 | 14.00 | 17.30 |
| Depart Lembongan | 09.00 | 11.00 | 13.00 | 16.30 |
Ticket prices are as follows and include a pick up and drop service for south Bali (Ubud not included):
| | | |
| --- | --- | --- |
| | One Way | Return |
| Adult | Rp 300,000 | Rp 500,000 |
| Child (5 – 11 Years) | Rp 140,000 | Rp 250,000 |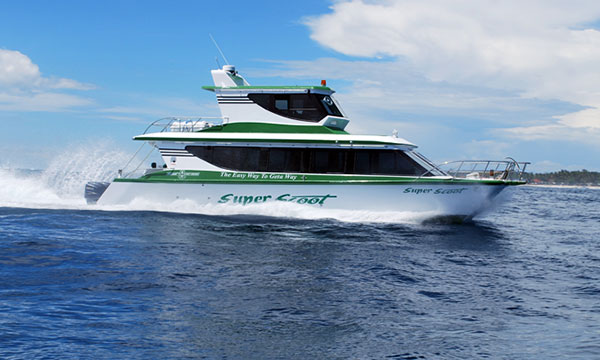 Boats from The Gili's and Lombok to Lembongan Island
If you plan to visit both Lembongan and the Gili Islands in Lombok, Scoot Fast Cruises is by far the best option. A ticket from Bali to Gili Trawangan includes free stopovers in Lembongan, Lombok and Gili Air. Scoot also offer a free pick up and drop service at your chosen hotel.
We are happy to make a Rocky or Scoot reservation for you and help you travel to Nusa Lembongan, so that you have more time to relax and enjoy your holiday. Please contact us as far in advance as possible, providing the following: names of passengers, dates and times you wish to travel, hotel pick up / drop off point in south Bali.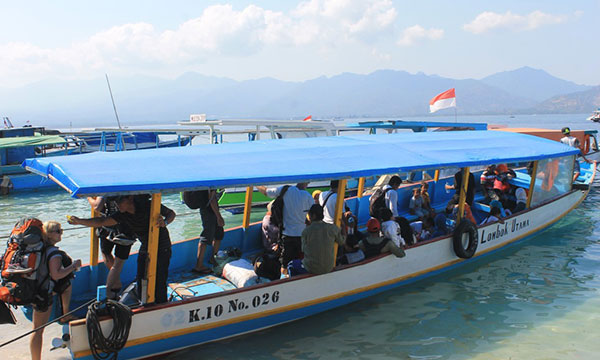 Public Slow Boat
These large wooden outrigger boats leave Sanur at 10:30 and costs IDR100,000. The journey takes about 1.5hrs and is great fun, in amongst the chickens and the water bottles (try it and you'll see what we mean!). Sitting on the roof gives you a fantastic view of the open ocean and is a great place to watch for dolphins and turtles. Return boats leave Lembongan at 08:00
The public boat organisation is run as a cooperative, so each day a different family provides the service. When you arrive in Jungutbatu, be aware that you may not come into the public boat office, but return to the family mooring somewhere along the beach.
Public Speed Boat
There is a local fast boat which leaves Sanur at 09:00, 12.30 and 16:00 and Lembongan at 08.00, 10:30 and 15:00 daily. It costs just IDR175,000. This takes approx 30 minutes and tickets can be booked from many accommodation providers on the island. Coming over to Jungutbatu village you generally do not need to buy tickets in advance (though this is perhaps advisable from July to September). The public speed boat is run by a group of Lembongan families, who take it in turns to run the service.