What to do on Nusa Lembongan
Scuba diving, surfing, stand up paddle boarding, snorkeling, kayaking in the mangrove forest, cliff jumping, zip lining, visiting underground houses, yoga, massages, learning about local culture, exploring by scooter or just kicking back and enjoying a drink while watching another spectacular Indonisian sunset – just a handful of island activities to do on Nusa Lembongan.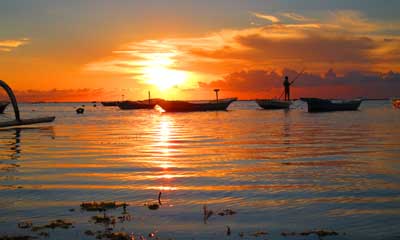 Sunsets
For those who prefer a little R&R to more strenuous island activities on offer, you can't beat kicking back and watching a good Indonesian sunset. Nusa Lembongan certainly doesn't disappoint, with breathtaking views of the sun setting across the water and over Bali. The best place to watch the sunset is from Jungutbatu beach, preferably with beer in hand. Bring a camera!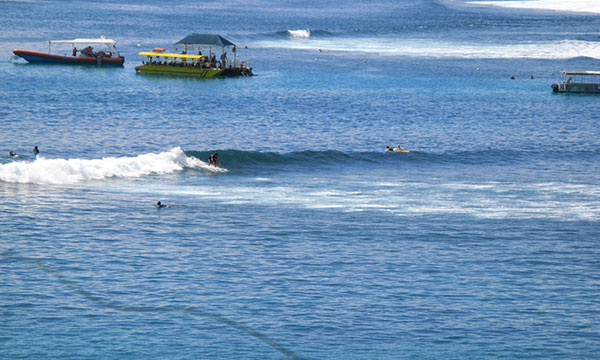 Surfing
Nusa Lembongan is extremely popular with surfers, with three main breaks just off Jungutbatu beach and one at Cenningan Point. Playgrounds is the most user friendly spot on Lembongan with a short right and longer left. The wave continues to break in lower tides, is a little bit deeper and has a nice wall to work on. Further north is Lacerations, a fast hollow right that breaks over shallow coral but offers wide open tube time! Further north again is Shipwrecks, another right-hander that works from mid to high tide. There is surfing on Nusa Lembongan year round, although April to September provides the best conditions, with winds coming from the southeast.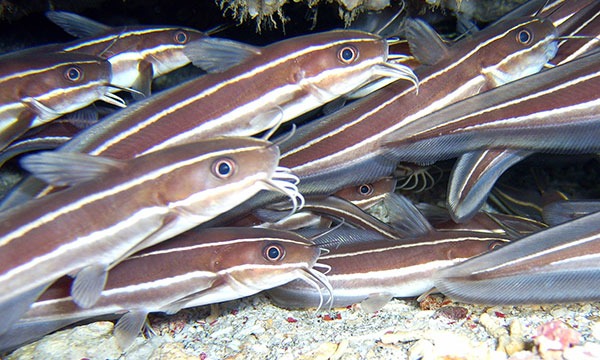 Snorkelling
The best snorkelling area is in the North East of the island close to the Mangrove forest. You can rent equipment from one of the small warungs and swim directly from the beach to the reef. The reef is teeming with fish and healthy coral probably because of it's proximity to the Mangrove forest which provides a haven for juvenile fish. Alternatively if you fancy swimming with Manta Rays and visiting some of the more remote snorkel spots on Nusa Penida look no further than Captain Diasa at D&B Warung who comes highly recommended.
Hiking & Biking
There is a good loop around the northern end of island. Starting in Jungutbatu head north to the Mangrove forest taking in the seaweed farms and views of Mount Agung in Bali.  After relaxing or exploring the Mangroves loop back towards the village via the Salt farms and football field. This will take around 2 hours on foot, less than an hour by mountain bike and no time at all if you hire a scooter. Bikes are available from many places; just ask around for a good price. If you're feeling more adventurous, a full loop of the island which will also take you via the iconic yellow bridge, Lembongan village, Dream beach, Devils Tear and Mushroom beach will take 4-5 hours on a mountain bike, or less than an hour by scooter.
Sun Bathing
If you are looking for a golden beach to soak up some vitamin D and un-wind then head to either Dream beach on the south coast or the beach next to the Lighthouse in the north. Although not recommended for snorkelling because of the strong currents at Dream beach you can dip into the sea and play in the surf to cool off! Another favourite, especially for families with young children is the lagoon beach close to the Mangroves. You will find local warungs at Mangroves and Dream beach and Lighthouse beach have resorts with swimming pools and restaurants.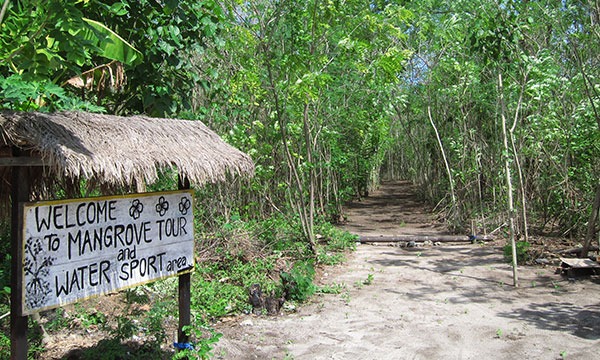 Mangroves
The shores of the north-eastern tip of Nusa Lembongan are covered with mangroves, which are worth an hour or two of your time. You can have a wander along the beach there and enjoy a cool drink in one of the simple cafes nearby or hire a stand up paddle board or kayak and explore from the water. It is also a fantastic place for snorkelling. Local boats take tourists on interesting "gondola style" rides through the shady mangroves; though bargain hard for a good price beforehand.